MODUL University Vienna je univerzitet u Beču sa najlepšim kampusom koji smo imali prilike da posetimo. 
Via Academica tim je bio u poseti i prenećemo vam naše utiske vezane za ovu instituciju.
Nešto o samom univerzitetu:
MU posvećen je studijama turizma, održivog razvoja, medija i novih tehnologija i lokalne samouprave. Osnovan je od strane Austrijske Privredne komore, a akreditovan od strane Austrijskog Saveta za akreditacije 2007.godine. Studije na ovom univerzitetu kombinuju snažnu akademsku strukturu i sistem sa inovacijama i posvećenošću održivosti, što dovodi do dugoročnog uspeha studenata na svim poljima delovanja nakon studija. Misija ove institucije je da osnaži kadrove koji će se posvetiti nezavisnim i originalnim istraživanjima i doneti inovacije svojim lokalnim zajednica, kao i globalnom tržištu. Modul ima razvijenu mrežu partnerskih univerziteta iz čitavog sveta, korporacija i javnih institucija od značaja. Profesori na ovom univerzitetu su eminentni i ugledni akademici koji su se posvetili tome da ovu relativno mladu instituciju pretvore u vodeću istraživačku platformu za oblasti koje se na njemu izučavaju. Univerzitet ide u korak sa svakodnevnim promenama i zahtevima modernog sveta i inicira i ulaže u celoživotno učenje (lifelong learning), jednakost i socijalnu pravdu.
MODUL univerzitet iz svih gorepomenutih razloga ulaže i radi na unapređenju standarda i programa koje nudi.
Ovo je jedan od razloga zašto diplomci ovog univerziteta zauzimaju najviše pozicije u velikim svetskim kompanijama i korporacijama širom sveta.
Programi: 
MODUL University Vienna je vodeća evropska platforma za industriju turizma i za institucije javnog sektora. On je definitivno prvi kontakt partner kada za nalaženje naučnih rešenja iz ovih oblasti. Predstavlja izvor stručnjaka iz oblasti strukturalnog razvoja opština, regiona i država i poseduje međunarodnu mrežu partnerskih univerziteta, velikih korporacija i državnih institucija. Takođe, Modul Univerzitet je partner mnogih međunarodnih istraživačkih projekata. 
Programi koji se nude su Foundation Program odnosno godina pred upis nekih od studija na univerzitetu, zatim Bachelor, Master, PhD kao i Executive programi odnosno programi koje je moguće završiti na daljinu. Svi programi su na engleskom jeziku.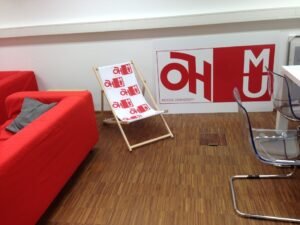 Foundation Program je pripremni program pred upis Bachelor studija u trajanju jednog semestra, od februara do juna. Studenti se pripremaju za što lakši prelaz na osnovne studije a kurikula podrazumeva da na nedeljnoj bazi imaju 16 sati engleskog jezika,  6 sati matematike, 6h poslovne administracije (business administration), 6 sati geografije i ekonomije i na dobrovoljnoj bazi studenti mogu pohađati i časove nemačkog jezika potpuno besplatno. Cena ovog kursa je 5900 evra bez studentskog smeštaja koji iznosi približno 300 evra mesečno.
Bachelor Programi su podeljeni na Bachelor of Science programe (BSc) i Bachelor of Business Administration programe (BBA). Za koji god program da se odlučite možete birati različite major predmete, odnosno glavne predmete.
BSc – možete izabratio major International Management, Interactive Marketing ili Entrepreneurship and Governance.
BBA – možete izabrati major Tourism Management, Hotel Management i Event Management. Jedini program koji je četvorogodišnji je BBA Tourism, Hotel Management i Operations, dok su svi ostali Bachelor programi trogodišnji. 
Svi programi obuhvataju predmete iz oblasti finansijskog menadžmenta, ljudskih resursa, marketing, informacionih tehnologija i ekonomije kao i komunikacija, ličnog razvoja, prezentacionih veštima i akademskog pisanja kako bi unapredili svoje komunikacijske veštine.
Naša preporuka je da ako želite studije hotelijerstva, turizma i hospitality-ja definitivno razmislite o upisu MODUL univerziteta, jer su po ovim studijama poznati i izgradili su ime u ovoj industriji.
Master programi su dvogodišnji Master of Science i to : MSc in Management, MSc in Intrenational Tourism i MSc in Sustainable Development. Cena master programa je 4500 evra po semestru u šta nisu uključeni smeštaj i troškovi života.
U posebnoj ponudi su jednogodišnji specijalistički programi i to Advanced Management, Business Decelopment, Digital Marketing and Social Media, Innovation and Design for Tourism, Real Estate Management&Hotel Development i Tourism&Service Management. Dakle, svi studenti master studija mogu dodati vrednost svojoj diplomi izborom nekog specijalističkog programa po njihovoj želji i budućim karijernim potrebama.
PhD studije mogžete pohađati iz oblasti Biznisa i Socioekonomskih nauka.
Executive program se nudi samo za MBA studije. Ovo je dvogodišnji part-time program koji je namenjem profesionalcima određene industrije da unaprede svoja znanja i idu u korak sa zahtevima tržišta. Starosni prosek ljudi koji pohađaju ove studije je 34 godine, a ovaj program uglavnom pohađaju internacionalni studenti.
Uslovi upisa:
Rok za upis studenta koji ne poseduju pasoš Evropske unije je 31.maj.
Potrebna dokumentacija je: CV, motivaciono pismo, pismo preporuke, transkript ocena sa prethodnih studija ili iz srednje škole, sertifikat jezika (IELTS ili TOEFL), kopija pasoša, jedna fotografija pasoškog formata. Kandidati koju prođu prvi krug aplikacija će imati intervju sa admission office-om univerziteta. 
Reč Via Academica tima:
Ovaj univerzitet ima najlepši kampus koji smo do sada videli, jako su posvećeni svakom studentu jer je broj studenata ograničen te se lične vrednosti i sklonosti ističu i neguju da bi na kraju rezultirali uspešnim karijerama. Studenti imaju obaveznih 900h prakse u toku studija i ovo je definitnivno nešto na šta bi trebalo obratiti pažnju kada birate studije. Za nastavni kadar su izabrani veliki stručnjaci i renomirani profesori iz oblasti koje se nude. Samim tim što se nude doktorske studije na ovoj instituciji ona se bolje kotira i podrazumeva da je kvalitet studija na jako visokom nivou. Takođe, još jedan ogranak MODUL univerziteta je skoro otvoren u Dubaiju gde žele da postave dobre temelje i isti kvalitet akademskih studija koji je zaštitni znak ovog univerziteta u Beču.
Via Academica vam može olakšati upis studija na MODUL univerzitetu, javite nam se ako imate pitanja, tu smo da odgovorimo.
Srećno pri apliciranju,
Vaš Via Academica Tim
Ukoliko imate pitanja vezana za studiranje na univerzitetu Modul ili bilo kom drugom univerzitetu u inostranstvu, kontaktirajte nas popunjavanje besplatnog upita ispod i odgovorićemo vam u najkraćem mogućem roku.